Mail and Packages
Packages and Parcels
NTPLLN Residents may pick up packages through the double doors in the Tapestry Building loading dock on the South Side of the building. 
Access to the loading dock is through the interior student mailroom (accessible with your keycard) and following the signs out through the door.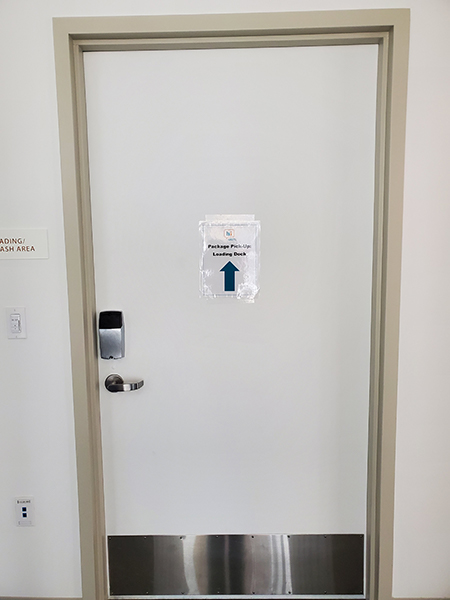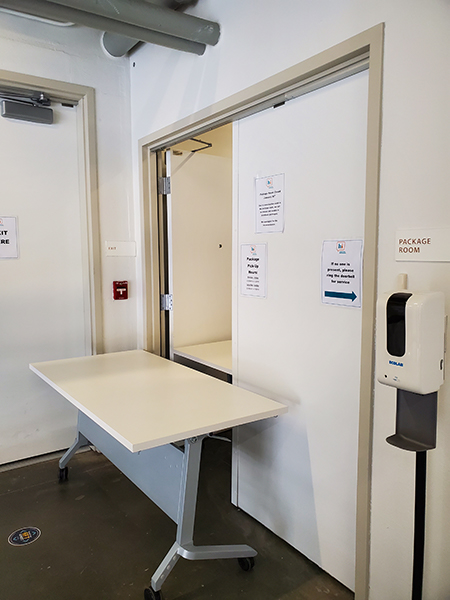 Packages and parcels can be picked up during business hours 7 days a week. You will be notified via email from Student Mail Services that your package is at HI.
If you have not received an email from Student Mail Services, your package is not ready to be picked up.
SCL "Shipment Tracking Tool"
Residents can use this portal to track packages that have been scanned and received by Student Mail Services. Use your Single Sign-On credentials to log into and track packages. Please note that it takes 1-2 business days for packages to appear.
Mailroom Location and Information
The mailroom is located to the left of the HI desk in the Tapestry building by the Campus Shuttle stop on the southeast corner. The mailroom can be accessed 24 hours a day with student ID.
In order to receive mail and packages, please use the following address format:
Your Name
9450 Gilman Dr.
# _ _ _ _ _ (mailbox #)
La Jolla, Ca 92092- _ _ _ _ (Last four numbers of mailbox)
PO Box combination instructions
Outgoing Mail Instructions
US Postal Service (USPS) mail affixed with appropriate postage may be sent through the outgoing mail slot in the mailroom. At this time HI does not sell US postage stamps. Packages shipped via FedEx or UPS can be dropped off at the UCSD Postal Center.
Additional locations to ship packages:
Postal Annex (located in Ralphs)
8677 Villa La Jolla Dr., La Jolla, 92037
Open daily from 8am to p.m.
(858) 453-9798FedEx Office Print & Ship Center
8849 Villa La Jolla Dr.,
La Jolla, 92037

Open Monday-Friday from 8 a.m - 7 p.m. and Saturday from 10 a.m. - 6 p.m. Closed on Sunday. (858) 457-3775
The UPS Store
7770 Regents Rd.,
Suite 113,
San Diego, 92122

Open Monday-Friday from 8am to p.m., Saturday from 9 a.m. - 5 p.m., and Sunday from 11 a.m. - 4 p.m.
(858) 453-7331

 
Amazon Shipment Options
For your convenience, UC San Diego has an Amazon Locker in each housing area, with one coming soon to the Sixth College/North Torrey Pines Living Learning Neighborhood. Please search for a locker using the zip code 92093.  Until the lockers are installed at Sixth College, the closest locker location to HI is at Muir College. Another option for receiving your Amazon packages is the Amazon@UCSanDiego, located conveniently in the Price Center. Activate the benefits of Amazon@UCSanDiego.